When she publishes a blog article, Holly writes a Facebook post beginning with "PREVIEW: Hot off the Fingertip Press an article …" Thus, the Fingertip Press evolved into Holly's nomenclature for her published articles, documents, and other written communication.
Ei Digital & Print Books:
September 2020 Fingertip Press publication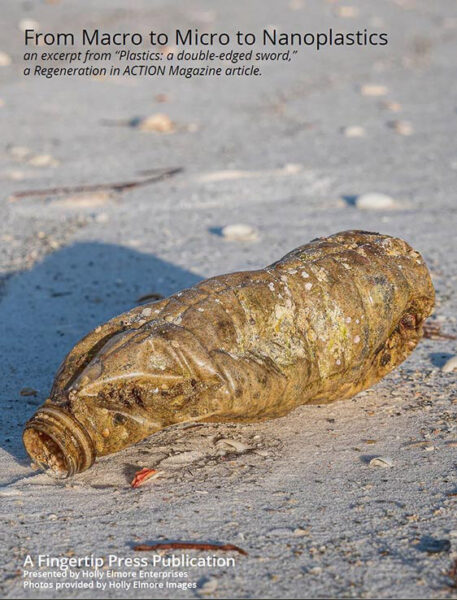 The From Macro to Micro to Nanoplastics article book is an excerpt from the October 2019 Regeneration in ACTION Magazine article, Plastics: a double-edged sword.
Photos are courtesy of Holly Elmore Images.
Soft cover, magazine-style books are available for purchase at $11.99 each plus delivery; volume-purchase discounts are given. Purchase the book: https://bit.ly/3bl2Zxs. 
A portion of the book proceeds is donated to Elemental Impact.
National Print Media:
Southern Farm & Garden, Summer 2018 issue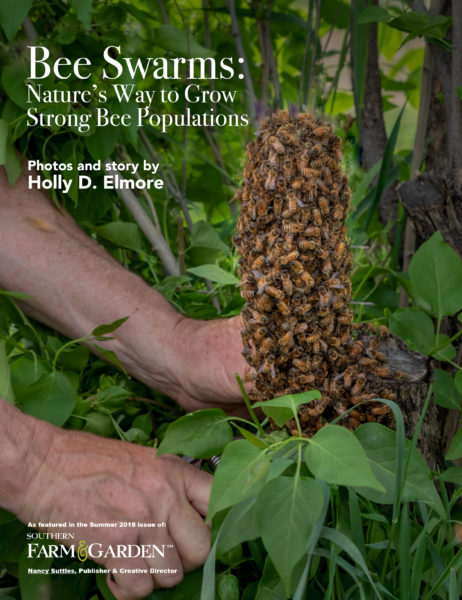 A two-page photo essay, Bee Swarms: Nature's Way to Grow Strong Bee Populations, educates on the important role bee swarms play in propagating bee populations, both from the size of and the number of colonies. The photos were taken in Boulder, Colorado when Holly stumbled upon a beekeeper retrieving a bee swarm from one of his hives.
Southern Farm & Garden, Spring 2018 issue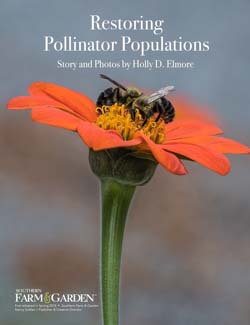 A six-page feature article, Restoring Pollinator Populations, gives an overview of challenges facing pollinator populations along with tips for pollinator-friendly gardens. Holly researched and wrote the article along with providing the images.
In addition, Holly's garden image was used for the issue wrap cover.
Southern Farm & Garden, Fall 2017 issue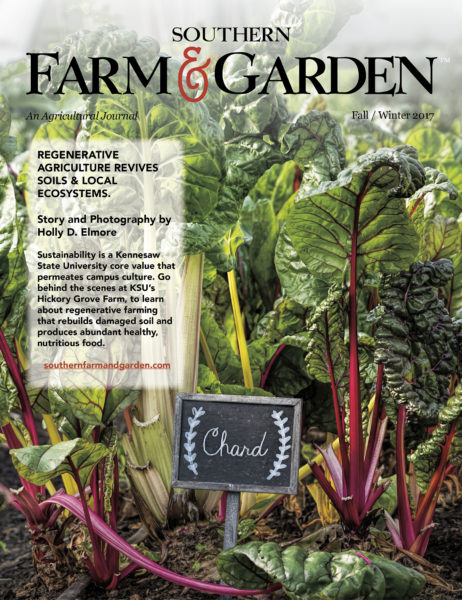 A seven-page, multiple-article feature, An Icon in Sustainability and Hickory Grove Farm: Regenerative Agriculture Revives Soils & Local Ecosystems, gives an overview of Kennesaw State University's (KSU) stellar sustainability commitment at the Michael A. Leven School of Culinary Sustainability & Hospitality, The Commons (KSU's Gold LEED certified dining hall), and Hickory Grove Farm. Holly provided the copy and photographs for the publication feature.
Blogs:
In addition to writing the Elemental Impact (Ei) website copy, the Fingertip Press publishes three blogs:
Regeneration in ACTION (RiA) Blog – an Ei on-line magazine launched in 2009 to document the challenges, successes & lessons learned for the Zero Waste Zones program. The magazine evolved into an in-depth documentation of Ei's work within the Recycling Refinement Platform and broad zero waste topics. In June 2018, the magazine name evolved to Regeneration in ACTION to reflect Ei's expanded focus on Soil Health and Water Use | Toxicity. On July 19, 2018, the RiA Blog topped the coveted 390,000 views milestone.
The IMPACT Blog – an Ei on-line magazine launched in 2010 to document Ei's work in areas other than Zero Waste, Soil Heath, and Water Use | Toxicity. On August 2, 2018, The IMPACT Blog surpassed 150,000 views.
Sustainability of the Spirit – a cousin to the Ei Blogs, the Sustainability of the Spirit Blog launched in June 2016 as Holly's personal expression.
The March 2016 ZWA Blog article, Ei Blogs: respected media & valuable industry resources, celebrates strong readership, acknowledges teamwork necessary to build the solid foundation, and details interesting reader analytics. The February 2015 IMPACT article, Ei Blogs Top 250K Combined Pageviews, announces the monumental milestone and is filled with interesting anecdotes along the journey.
Industry Publications:
Beyond the Ei Blogs, Fingertip Press articles were published in three prominent industry trade association magazines:
Pallet Central, October 2016 issue
Zero Waste Makes Good Business & Environmental Sense was the lead September | October 2016 Pallet Central issue article was featured on the front cover. Pallet Central is published by the National Wooden Pallet & Container Association and distributed to approximately 6500 members and industry colleagues.
The article gives an introduction to embarking on the zero waste journey along with first steps supported by economic, community and environmental benefits.
AAAE's Airport Magazine, February 2014 issue
In the American Association of Airport Executives' February | March publication of Airport Magazine, the Atlanta Airport (ATL) presents a proactive approach to Airborne Kitchen Grease (AKG). The AIRBORNE KITCHEN GREASE: A New Frontier in Sustainability, A simple solution saves tremendous water use, labor and dollars article was featured in the Airport Magazine Asset Management department.
The ZWA Blog article, Atlanta Airport Presents a Proactive Approach to Airborne Kitchen Grease, provides the article details, context and link.
Inside Supply Management, March 2013 issue
The Journey to a Zero Waste Supply Chain was the featured Sustainability Column article in the Inside Supply Management (ISM) March issue. ISM is published by the Institute for Supply Management, a national trade association. The ZWA Blog article, Supply Chain Critical to Zero Waste Success, gives an article overview along with specific examples.
Industry Documents:
Comparative Case Study: Plastic Film Recycling at Two Simon Malls
Prepared by Ei on behalf of W.R.A.P. – Wrap Recycling Action Program, the case study chronicles the Charlotte plastic film recycling programs pioneered within the Sustainable Food Court Initiative (SFCI) – Shopping Mall Pilot. The case study was published on November 14, 2016.
W.R.A.P. was initiated by members of the American Chemistry Council's Flexible Film Recycling Group in partnership with GreenBlue's Sustainable Packaging Coalition and The Association of Plastic Recyclers; W.R.A.P.'s purpose is to reinvigorate plastic film recycling.
World Chefs Waste | Recycling Course Curriculum
Working closely with the Ei SMAT – Sustainable Materials ACTION Team, the Fingertip Press published a 50+ page comprehensive PPT presentation to support the World Chefs' Sustainability Curriculum for international culinary schools.
The December 2015 Waste | Recycling Course Curriculum PPT flowed from the broad, big picture viewpoint to the foodservice industry's tremendous waste generation to the environmental impact and ended with the chef's leadership role | responsibilities. Each slide is supported by visuals along with instructor notes and research sources.
An abbreviated PPT pdf is available for download on the Ei World Chefs Waste | Recycling Course Curriculum page. The ZWA Blog article, Sustainability: a matter of thinking critically & solving problems in an adaptive manner, introduces the Waste | Recycling Curriculum.
Airborne Kitchen Grease Cost-Savings Restaurant Pilot Report
To substantiate and quantify the water, labor and toxic chemical savings within the Ei Airborne Kitchen Grease (AKG) Initiative, Ei joined forces with Compliance Solutions International (CSI) for a three-restaurant, eight-week Grease Lock Filter system pilot. The June 2013 Cost-Savings in Commercial Kitchens By Using Grease Lock Filters, A Report on Restaurant Pilots prepared by Jay Parikh, CSI president is available for download on the Ei AKG Stage 1, Building the Foundation page.
The Fingertip Press prepared a report introductory letter along with substantial editorial contributions to the Executive Summary and Introduction sections.
SFCI – Atlanta Airport Pilot
Under co-leadership with the Institute for Local Self-Reliance, Ei worked closely with the Sustainable Food Court Initiative – Atlanta Airport Pilot Team on publication of the July 2012 Atlanta Airport Compostable Foodservice Ware Packet.  The packet intent was to educate and support Atlanta Airport concessionaires meet the compostable foodservice packaging provision included in the then new concessionaire contracts at the world's busiest airport.
The ZWA Blog post, Compostable Packaging Info Packet, details the Info Packet main provisions; the Exemptions | Exclusions Added to Atlanta Airport Info Packet article is an overview of Info Packet updates for exempted | excluded items. The document is available for download on the Atlanta Airport Compostable Foodservice Ware Packet Ei website page.
Ei is in the midst of a contract with a prominent industry trade association for publication of a comparative case study.
The @ Your Service page details Fingertip Press services available.